DESIGN COLLABORATION TOOL
Collaborate across your teams with Designer our powerful design collaboration tool, to build your ideal customer communications.
 Our robust design collaboration tool offers a unique and user-friendly interface, allowing your design teams to create your communications templates with ease.
This can be achieved either by creating or using pre-designed resources. This means that your other teams can focus more on the content within their communications and spend less time struggling to manipulate template layouts.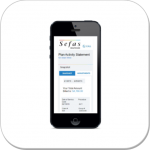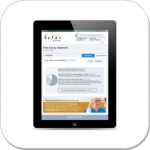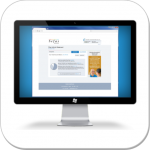 The collective potential available within this design collaboration software means that all stakeholders can easily work within a single framework. This means that you are able to offer a singular message across all of your communications, as well as being able to control all of your content in a single centralized location.
MANAGE ALL OF YOUR RESOURCES IN A SINGLE LOCATION WITH OUR DESIGN COLLABORATION TOOL
All of your content (templates, images, logos, text paragraphs…) is stored in a single location within HC Designer. All business and IT users can then share these resources across teams with ease. Access and modification rights are set up for individual or grouped resources depending on authorisation levels. This is a design collaboration tool that reduces the strain on your IT resources.

Your shared resources within HC Designer are:

Independent of any template, resources can be reused with other templates regardless of the distribution channel and within any HC Designer module

Polymorphic – a single object can be created and maintained for multiple uses

Omni-channel – a single object can be created and is maintained for all distribution channels (traditional or digital.)
This omni-channel management capability allows you to reduce the number of templates required, providing better control, easier management, and improved speed of template changes.
Reduce your template library by 75%
Potentially you can reduce your template library by 75%.

You control all of your content and its life cycle.

Your customer communications will effortlessly comply with the regulatory requirements and the company's graphic charter.
CREATE EASY EMAIL AND WEB TEMPLATES
Combining the functionality of a desktop publishing solution and an advanced CCM tool. HC Designer allows you to create all of your customer correspondence within a single workflow:
Omni-channel output with responsive screen design

Digital and traditional delivery channel: paper, PDF, web, email

Customised communications for each screen size: smartphone, tablet, PC transform your current documents (paper, PDF) into web templates.

Transform your current documents (paper, PDF) into web templates
During the design phase, users can test their templates with real data to view how they look in PDF and on each digital device type (smart device, tablet and PC preview).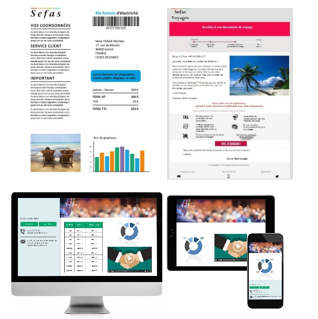 YOU CAN CONTROL EXACTLY HOW MUCH CUSTOMISATION FRONT END USERS CAN MAKE TO COMMUNICATIONS TEMPLATES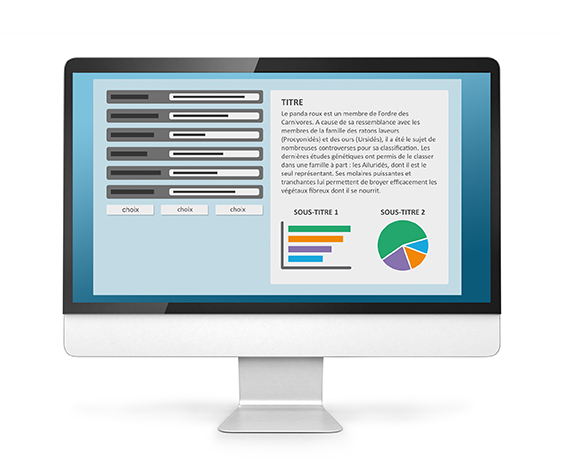 Define specific customisation areas, rights, and types that individual business users or groups are able to edit within your templates.

Save time designing using "step-by-step" customised wizards.

Create a customised interface that can be integrated with a business application or via an eAccess portal.
TRANSFORM YOUR EXISTING DOCUMENTS
Integrate existing workflow documents, from any application within Harmonie Communication Suite. The HC Designer Transform module can be used as a migration tool between an old and a new CCM solution. 
Re-engineer documents into attractive communications, starting with the original source you are able to change the structure and to apply new graphics and images. You are also able to manipulate fonts, images, apply new graphics, or add and delete content at will.

Extract content and reformat data.

Convert your communication workflow to new output formats whilst retaining the original outputs look and feel.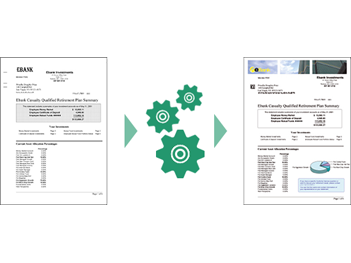 ORGANISE YOUR WORKFLOW WITHIN THE SOFTWARE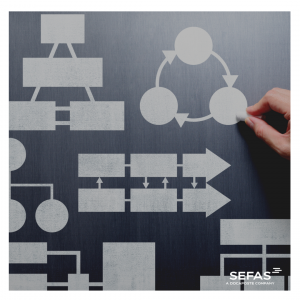 Organise your post-composition workflow with our design collaboration tool by defining rules for distribution, sorting, grouping, subdividing, and postal optimisation. With the ability to integrate into external services (electronic signature, archiving system…).

Automate the preparation of your workflow for multi-channel delivery and/or archiving.